We've only just welcomed in the New Year, poised, excited and ready to embrace what 2018 has to offer, but trend experts are already years ahead…
Sharing some insights into what will define our future, the forecasters at WGSN have revealed three key trends for next year. Firstly, matte black will be the new 'it' colour across homes and interiors in 2019.
'We've seen matte black across the fashion and beauty world, but for 2019 look to see matte black across interiors and homewares, too,' say the team at WGSN. 'From the residential to commercial market, expect to see bold, refined designs that create a sense of drama. It's quite an about-turn from the ubiquitous millennial pink.'
With multifunctional and modular trends driving design across interiors, and with the smart home progressing at a rapid rate, technology will be in your home in more ways than one. And according to WGSN, 2019 will present multitasking mirrors.
Yes, you heard right – mirrors will double up in your home, whether that's as lighting devices, entertainment systems or even health trackers.
WGSN explain: 'Don't be surprised if come 2019 you hear your mirror telling you you're running low on vitamin D or running late for that crucial meeting while you're brushing your teeth in the morning!'
Imagine that thought…
Across homes and fashion, sustainable fabrics will be another key trend, with WGSN predicting that by 2019 it's expected to 'hit mainstream'. The trend forecasters add: 'We're looking forward to a steep increase in products made from sustainable alternatives like animal-free leather from genetically modified yeast or worm-free silk.'
Well, there you have it… the biggest trends for the future. 2019, we're ready and waiting – but let's get through 2018 first.
Besides the color of home decorating mentioned above, the following home decorating colors will also be huge in 2019. Let's check them out!
THESE 15 COLOR TRENDS WILL BE HUGE IN 2019
DIGITALLY INSPIRED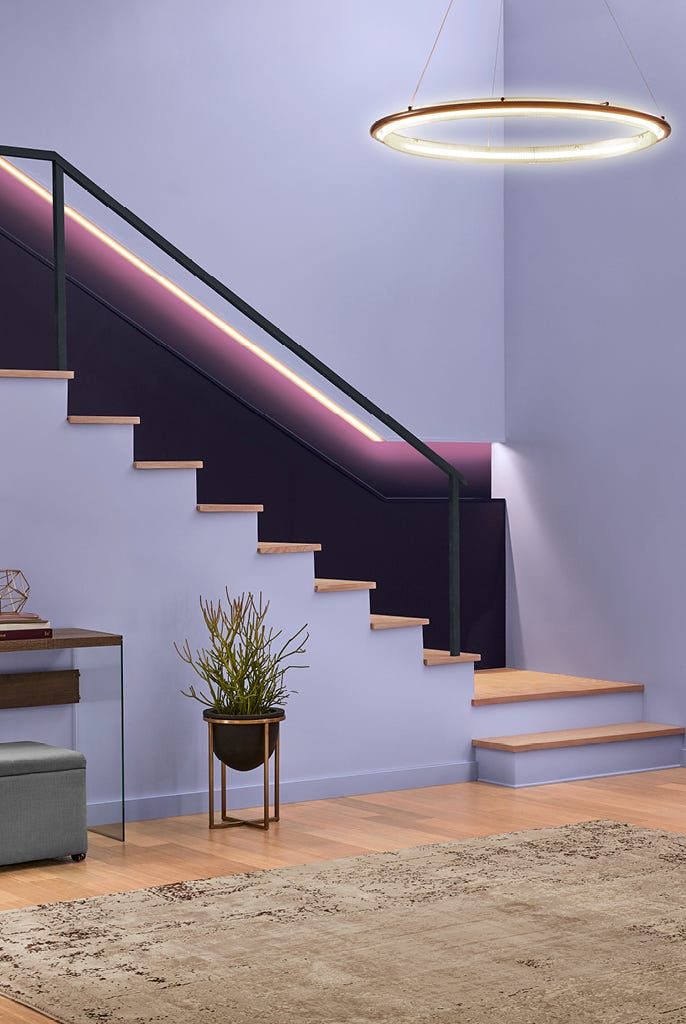 According to the Senior Color Designer Sue Kim of Valspar, "Smart technology in the home is driving the color experience differently." Because of this, we will see higher intensity shades that mimic the edge of artificial light in a way that is "strangely familiar" (and obviously gorgeous).
A CONTEMPORARY TWIST ON FOREST GREENS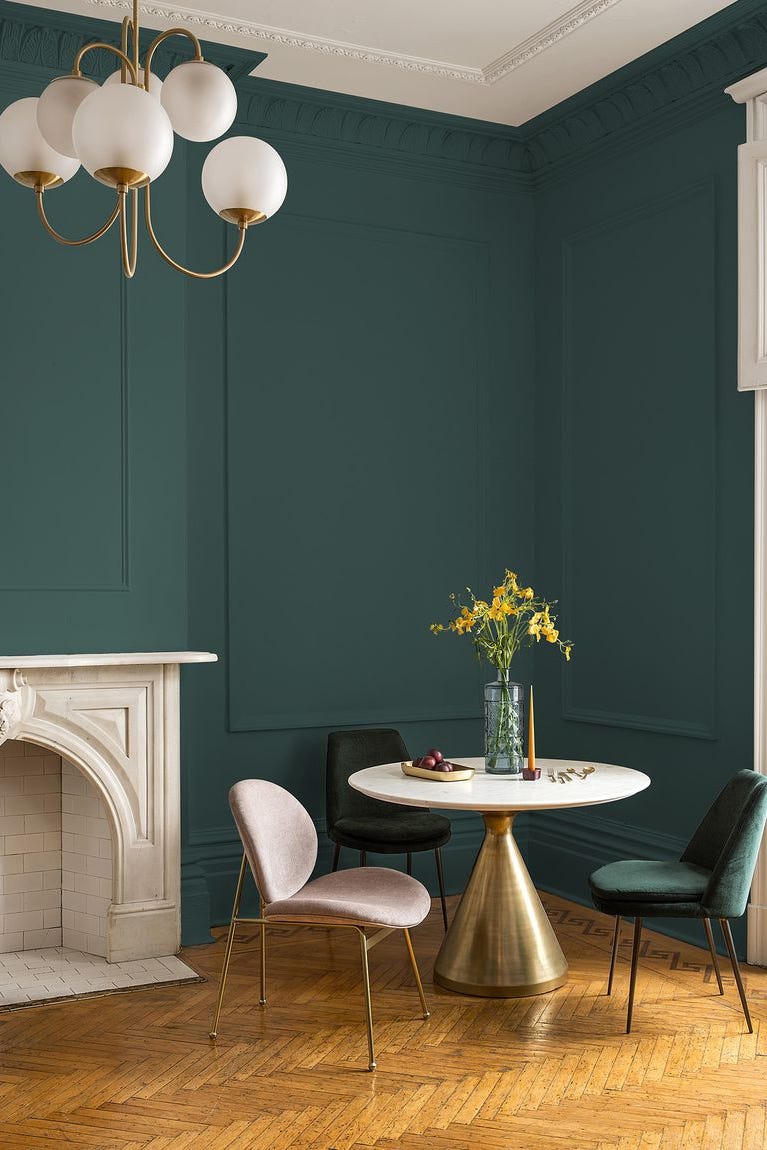 Deep greens that are inspired by (but not directly reflective of) nature will bring the healing properties of the outdoors into the home, without feeling overly arboreal. Here, PPG's color of the year "Night Watch" fills a room with a welcoming richness.
MISTY BLUES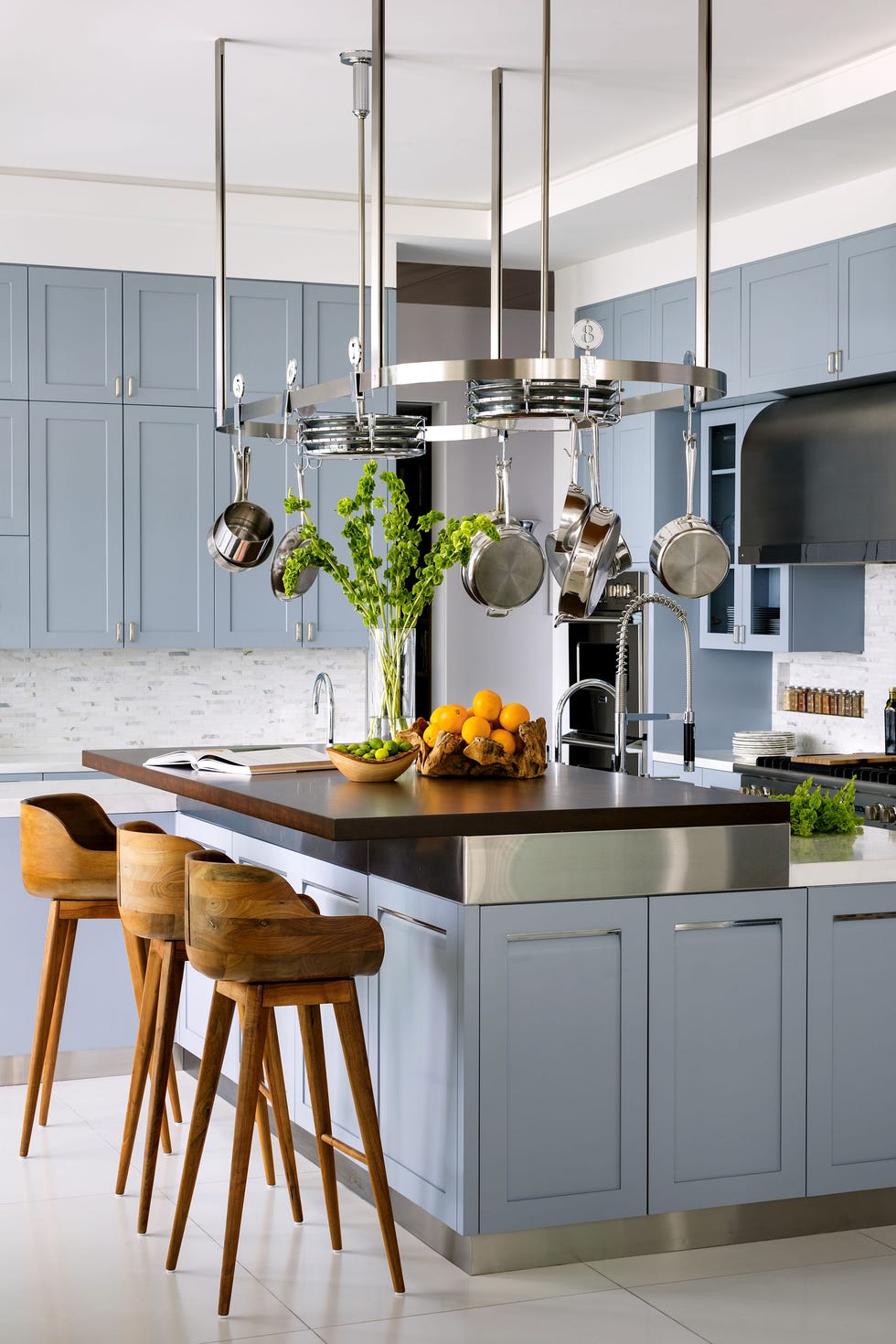 In 2019, we're going to see blues with a softened mistiness and haze. This moody blue has a calming grey undertone that promotes a more serene energy in the home. According to Kim, blues can be given "a touch of purple to free our thinking, with hints of gray to ground us." They selected Seattle Haze as one of their colors of the year.
OPTIMISTIC YELLOWS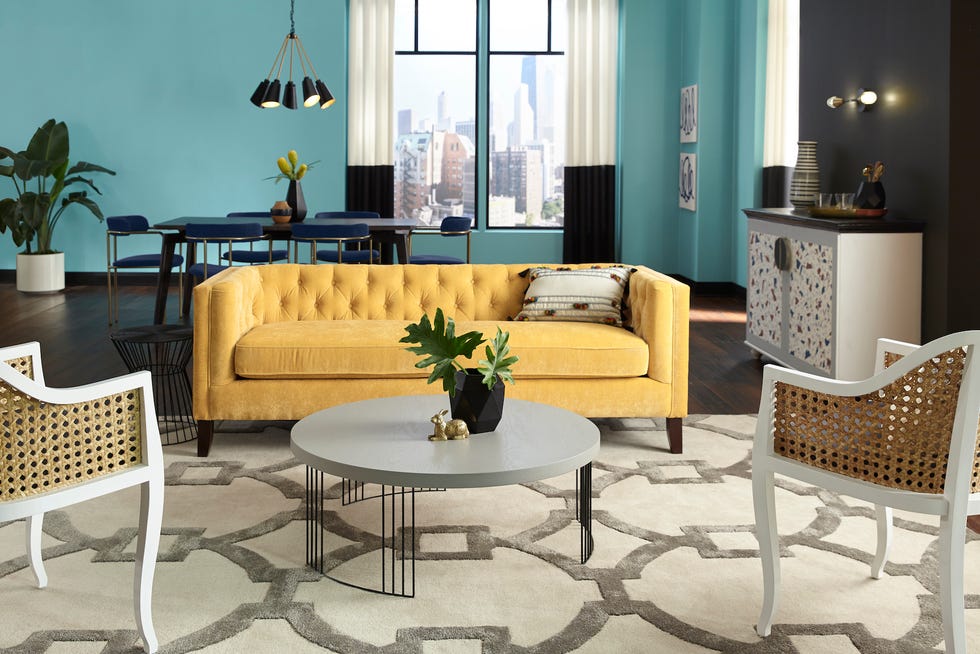 In 2019 we'll see a rise in colors that are associated with optimism, like bold yellows and oranges. Sherwin Williams' Afternoon, a rich and inviting yellow, pairs beautifully with cool blues, beiges, and pinks.
OFF-CREAM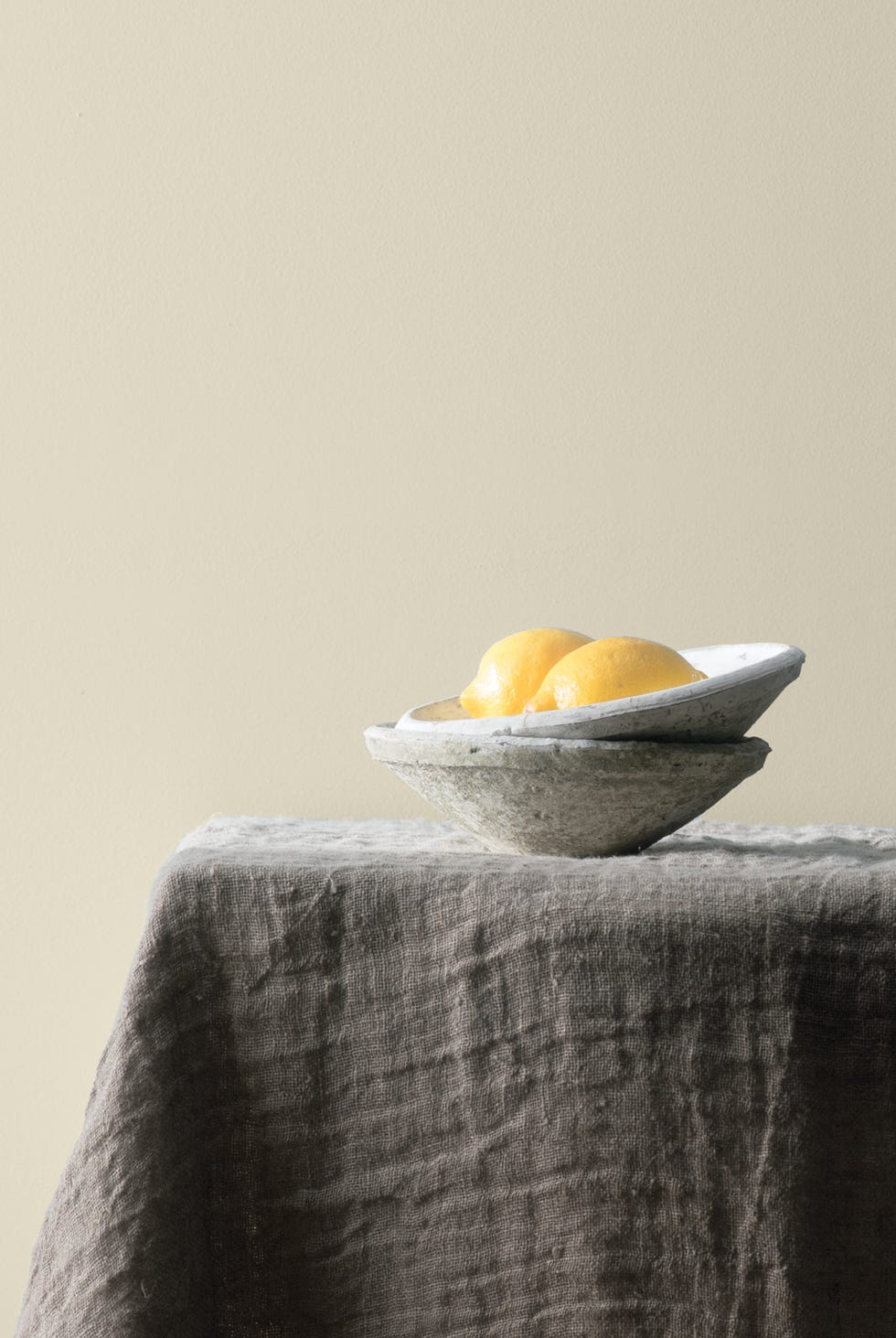 The minimalist movement has encouraged many modern homemakers to live a more clutter free, thoughtful life. With this, shades associated with minimalism–creams, beiges, and whites–are being incorporated into many home palettes. Cream shades with bolder, more colorful undertones are desired for their inherent simplicity that can be manipulated with different types of lighting. Here, see Benjamin Moore's Balboa Mist, a timeless cream that shifts richer or deeper with shadow and brightness.
SOFT TERRACOTTAS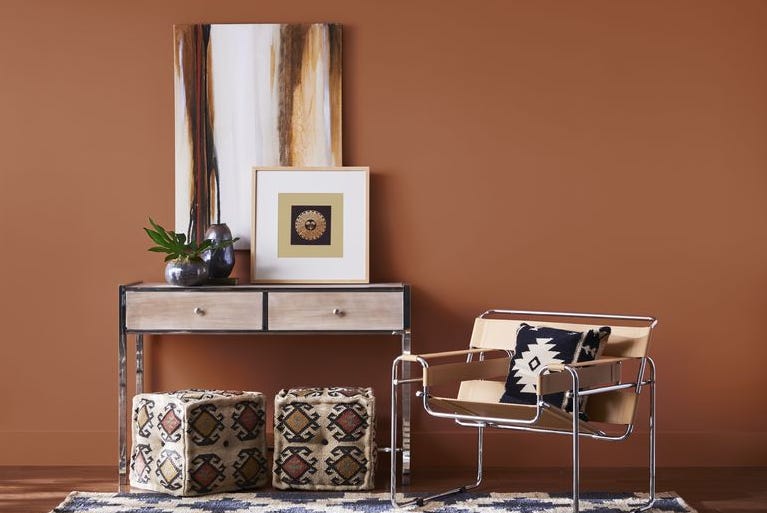 Sherwin Williams' 2019 color of the year is Cavern Clay, which is a Southwest inspired tone. For those who want a more elemental, nature-inspired hue with a contemporary twist in their home, this creamy rust will truly shine.
ELECTRIC CITRUS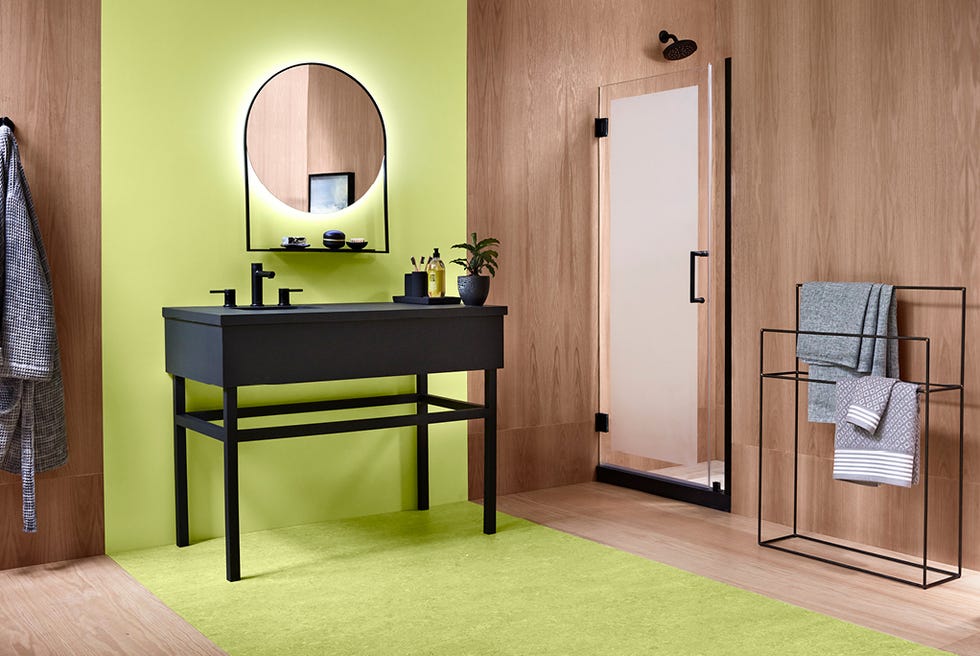 According to Valspar experts, playful, more extreme colors will be popular in 2019. The "I can do this, let's make a change" attitude is reflected in electric tones like lime green, citrus orange, and bright yellow.
DUSTY BLUSH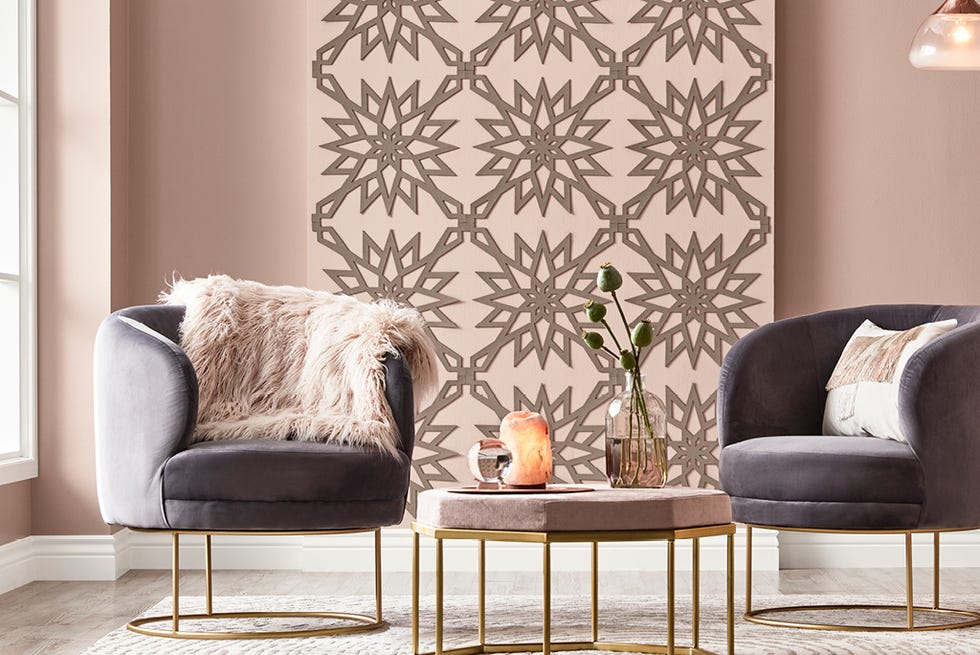 Millennial pink is a color of the (very recent) past. Now, softer shades like rosy neutrals and muted blushes, which reflect a spirituality, are being favored. Unlike millennial pink, these hues are less trendy and more timeless.
JEWEL TONED ACCENTS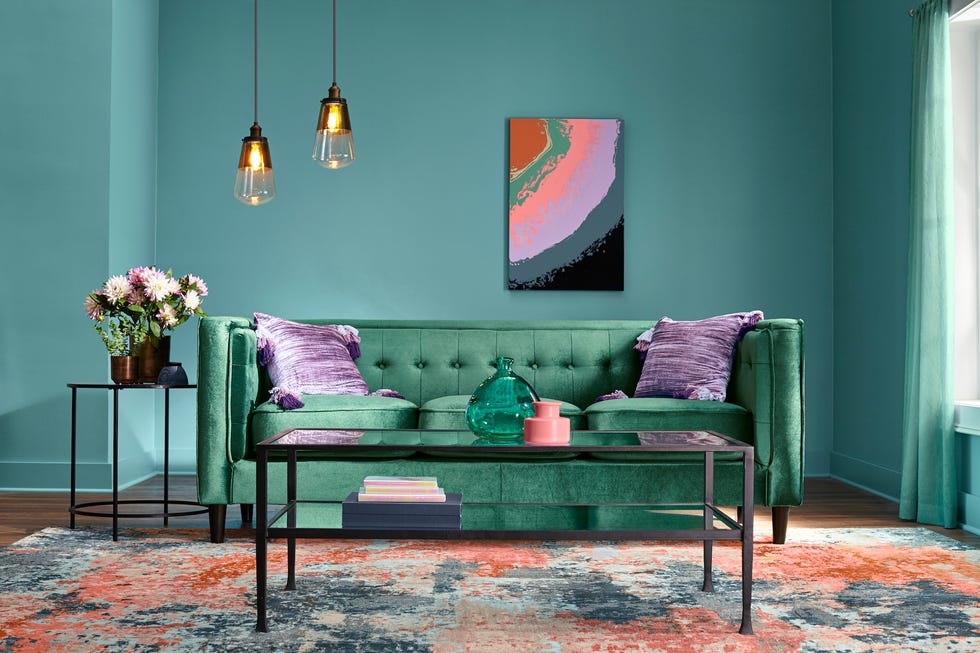 In 2019, bring pops of color into your favorite spaces with jewel-toned furniture and accents. 2018 was the year of the neutral palette, and 2019 is all about finding balance with appropriate doses of color. Kitchen cabinets, accent walls, and furniture are all smart ways to incorporate colors like emeralds, sapphires, and aquamarines.
RAW WOOD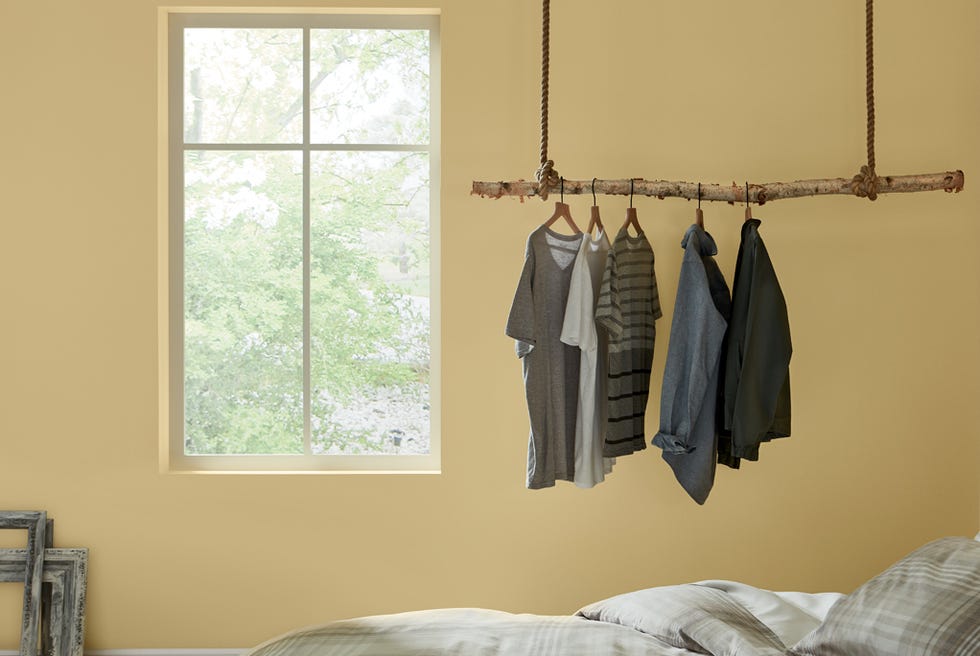 Light, wood-inspired shades are a great alternative to traditional beiges or tans. Neutrals that take on ash, maple, or pine tones are perfect for the minimalists and color-phobics alike.
ALMOST WHITE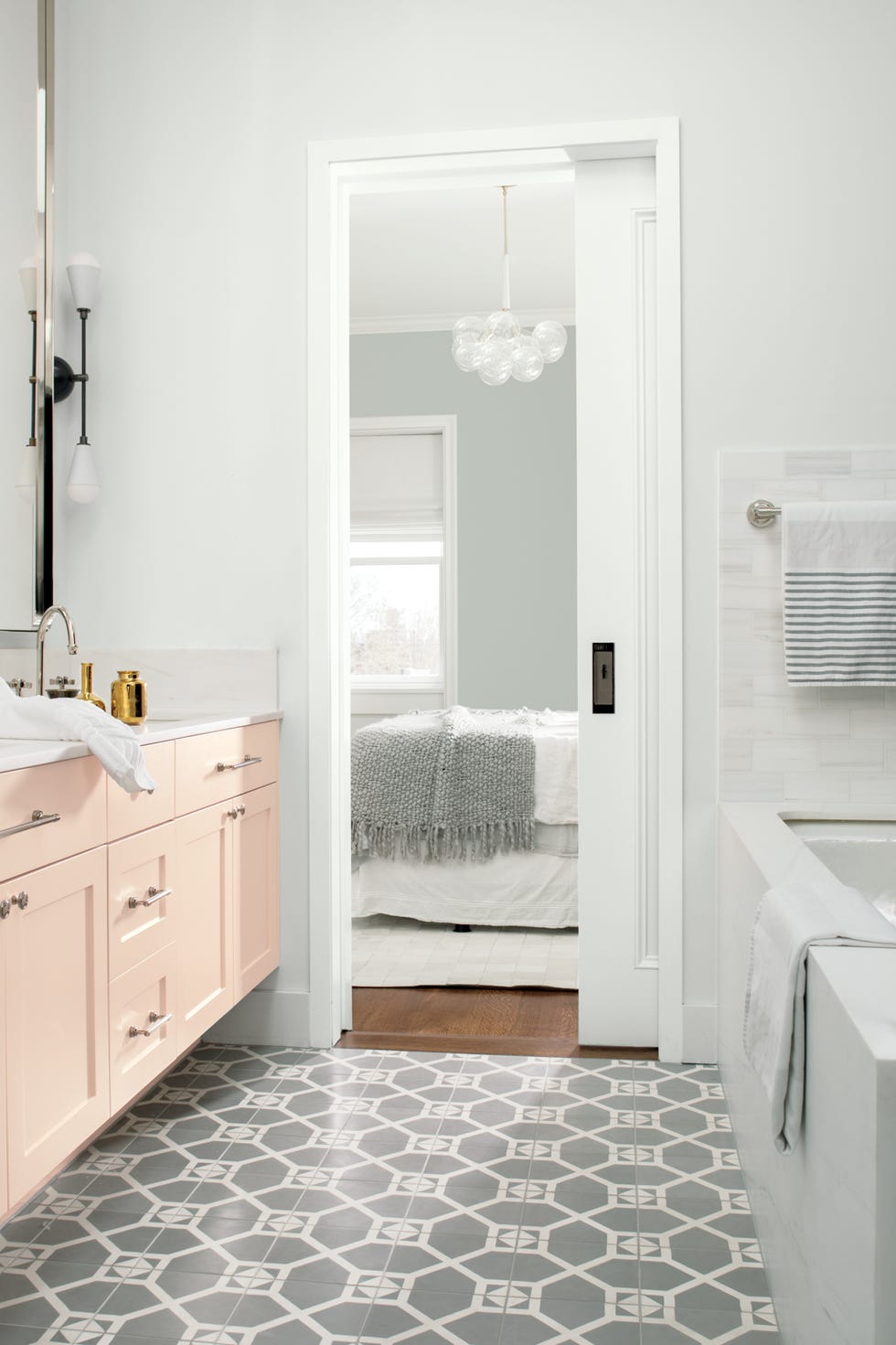 There's nothing more classic than an all white palette. And while pure white is a go-to for many homemakers, 2019 will be the year of "almost-whites." These shades offer subtle nuances that adapt to different lighting, furniture, and surrounding colors. For those who crave a minimalist palette that still feels dynamic, an almost-white shade is the fool-proof choice.
POWER-INDUCING AQUAS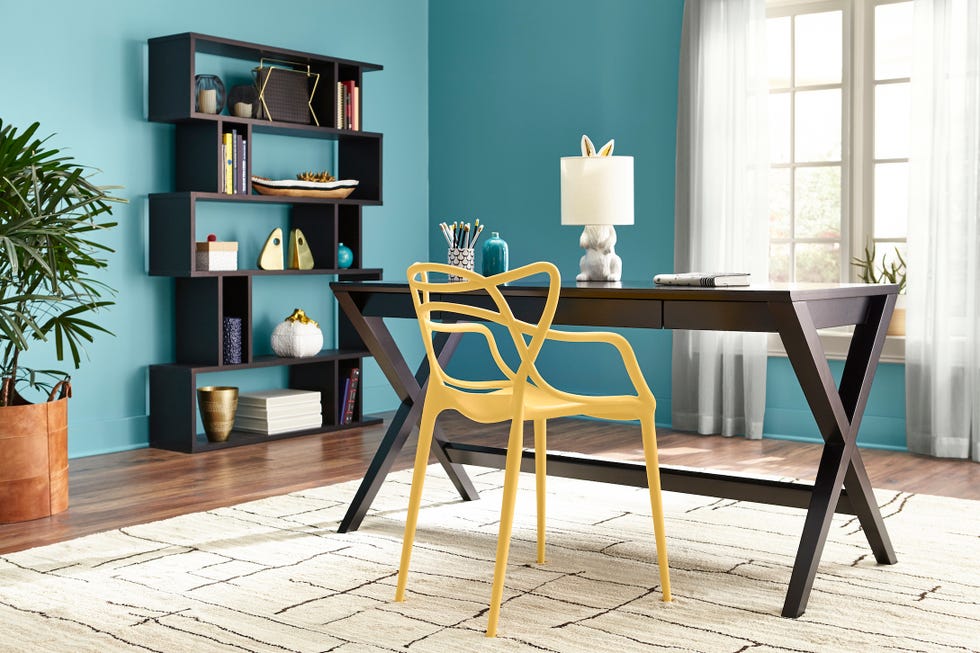 HGTV HOME by Sherwin Williams picked the vivid-but-calm Reflecting Pool as their 2019 color of the year. The vibrant aqua is bold on its own, but the versatile hue changes when paired with different colors (think soft pinks, pastels). While the color is easily toned down, Sherwin Williams paint experts see aqua being used as a power color in 2019: "It takes on a sense of humor and power, and is perfect for a fun accent wall, front door, or bookshelf," the brand said.
RICH MUTED PURPLE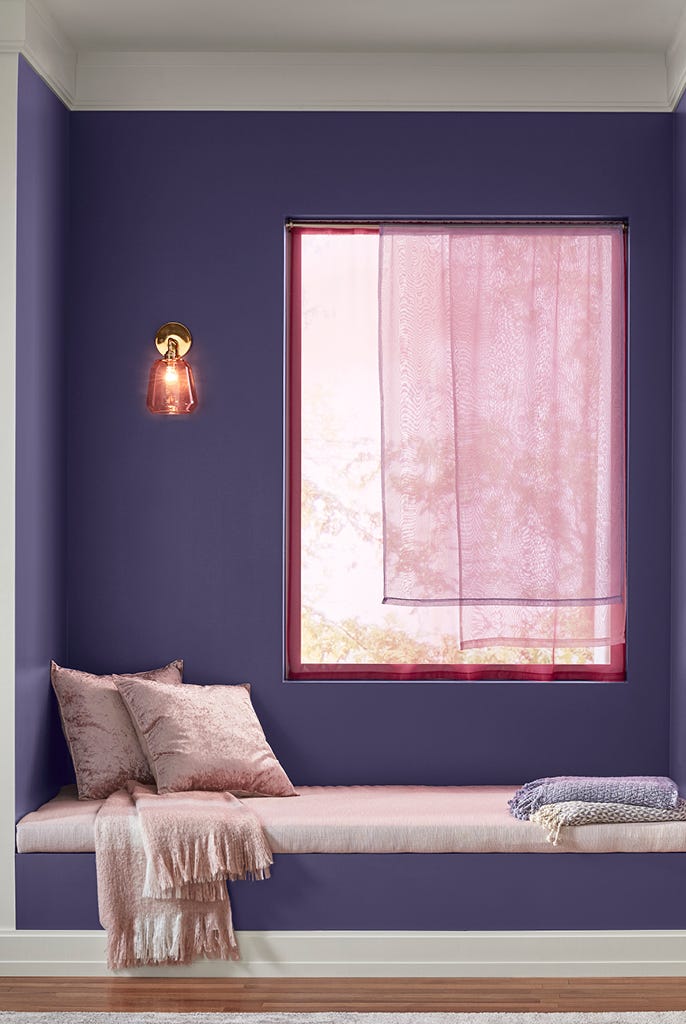 Pantone named Ultra Violet as their 2018 Color of the Year, and purple is expected to prevail in 2019 as well. Next year, however, we should expected muted, understated versions of the color that still have that rich energy, but with a mellowed intensity that makes the shade more versatile.
DEEP BERRY REDS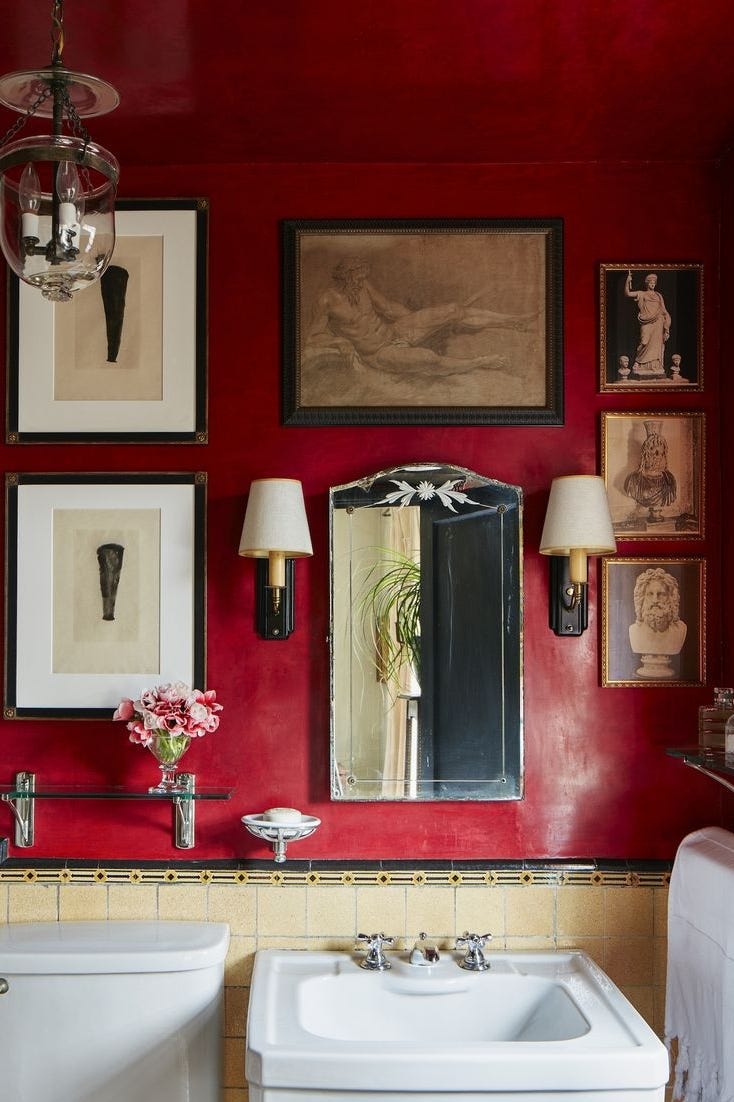 In 2019, expect to see bold, saturated reds that infuse life into a space without overwhelming it. Deep berries have comforting and cozy qualities, while simultaneously energizing a space with their rich color. HGTV HOME by Sherwin Williams included Borscht, a juicy berry tone into their Everyday Balance collection for 2019.
MINDFUL GRAY UNDERTONES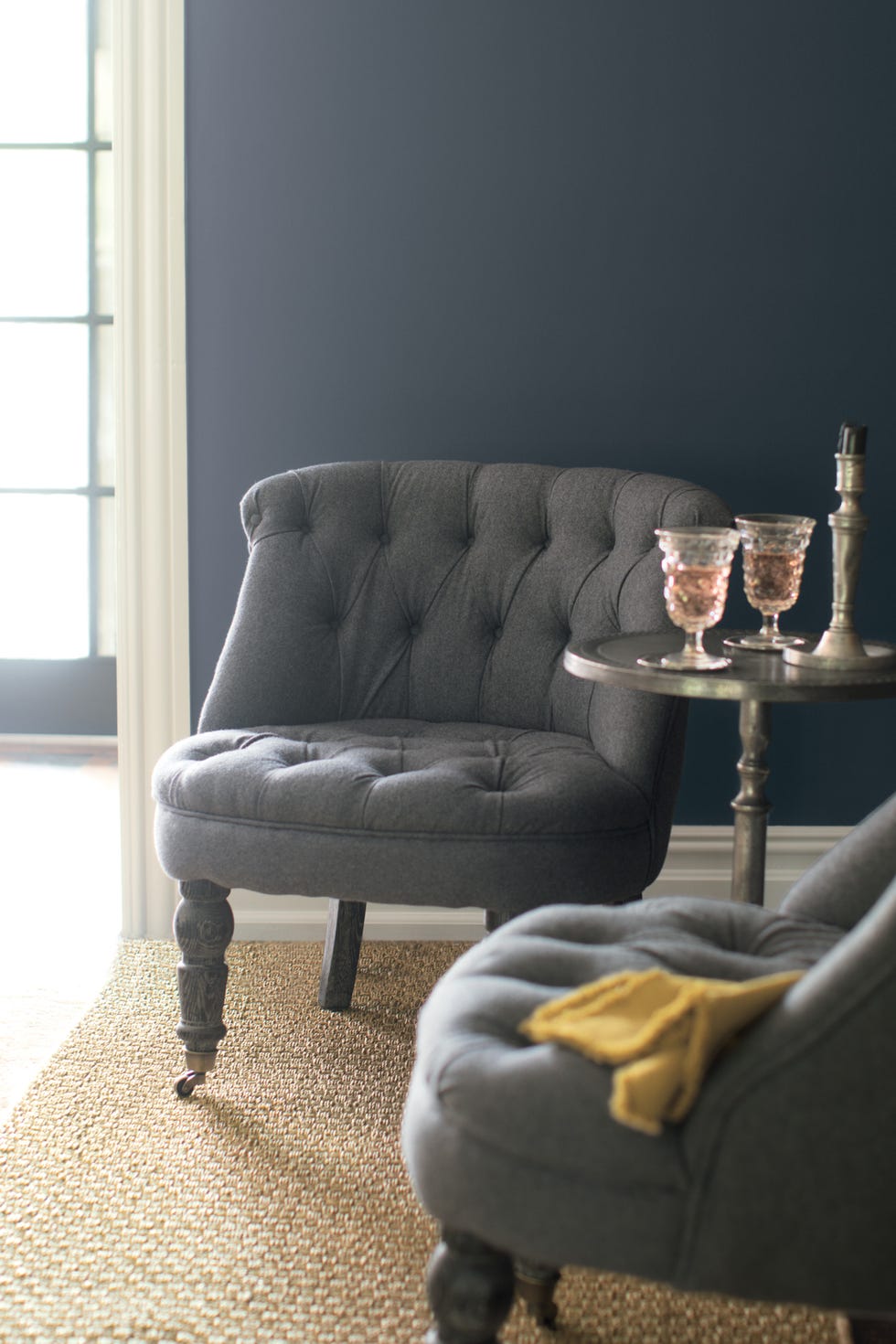 "People will begin to incorporate calm grey undertones, which are associated with mindful living and smart choices," says Kim. These coined "introspective shades" regard a color's undertone as equally important to the shade itself. Navys, purples, and browns with grey undertones create a subdued sense of tranquility in the home. Here, walls are painted in Benjamin Moore's Black Panther.