1. The Elf on the Shelf Candy Cane Garden Idea
Three days' worth of ideas in one: a candy cane garden! Use crushed chocolate cookies as "soil" and watch the peppermint grow from round candies to full candy canes.
2. Magazine-Loving Elf on the Shelf
When Elf's fine-print edition of Country Living arrives in the mail, the little guy peruses the pages from a good ol' porch rocker. (He LOVES the craft ideas!)
3. The Elf on the Shelf Movie Night Idea
Kick off the holiday season with a family Christmas movie night. Your elf can get everyone ready with a tray of popcorn and peppermint candy.
4. Elf on the Shelf Sledding Idea
Candy canes aren't just delicious and nice to look at! In this fun idea, they double as a sled fit for any Elf.
5. Tangled in Floss Elf on the Shelf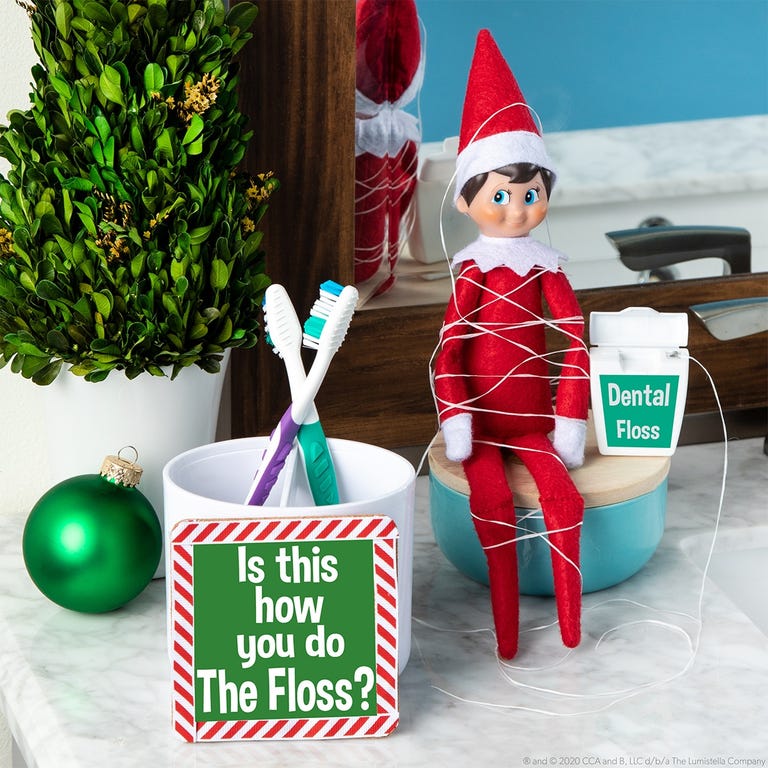 Kids will get a kick out of finding the Elf all wrapped up in dental floss when they go to brush their teeth in the morning.
6. The Elf on the Shelf Tic-Tac-Bow Idea
Use holiday-themed Washi tape to create a board your Elf (and kids!) can use to play rounds of tic-tac-bow.
7. Elf on the Shelf Olaf Idea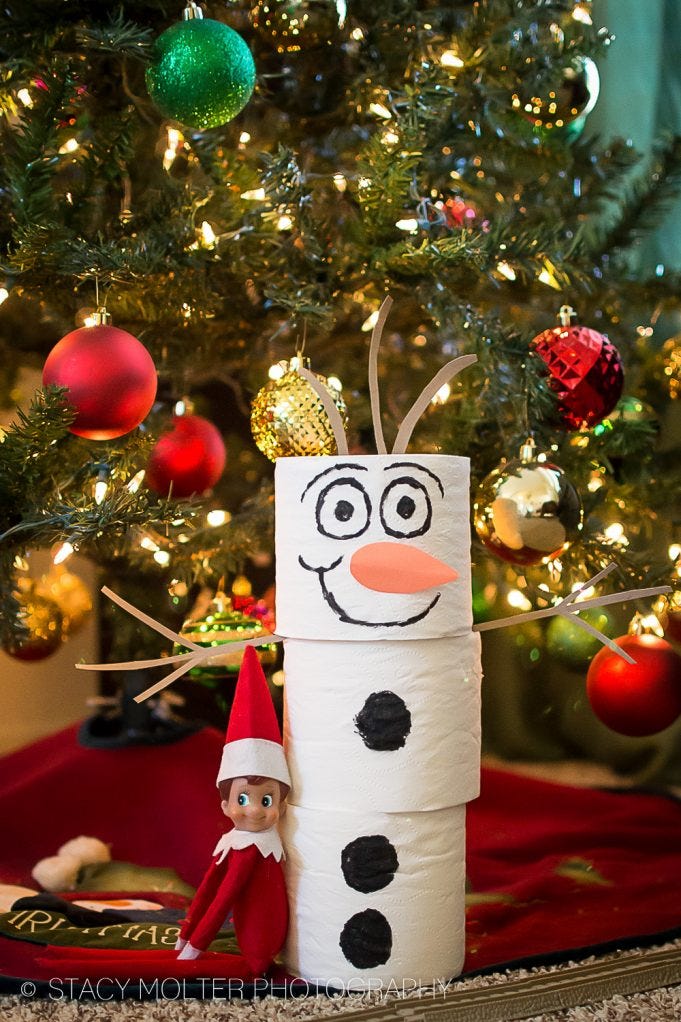 Got a few extra rolls of toilet paper and some orange construction paper? Then you're well on your way to recreating this genius Olaf idea that'll delight Frozen fans in your home.
8. North Pole Putt Putt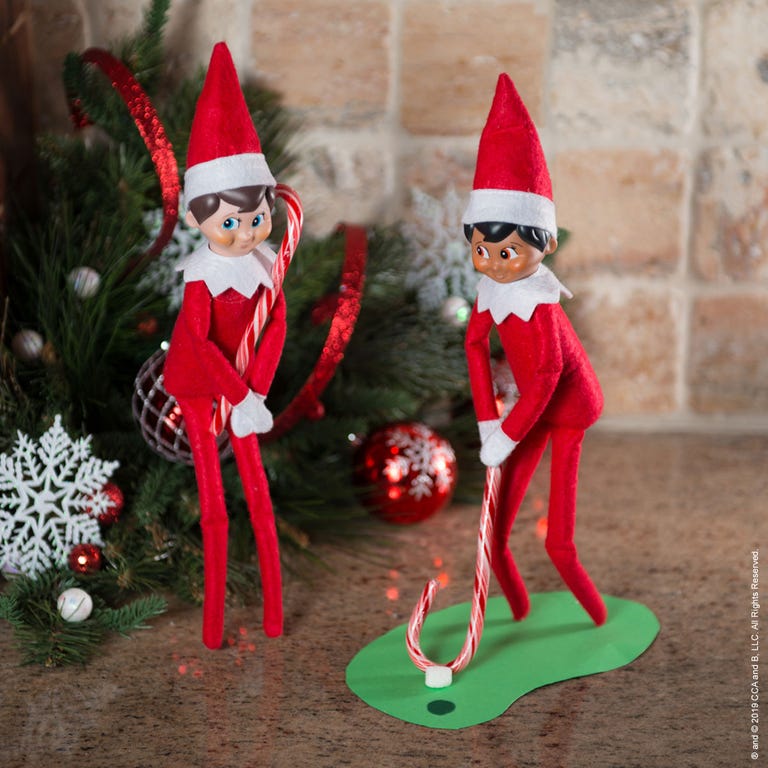 Use green construction paper or felt and a mini-marshmallow to create a putt-putt course (with candy canes as golf clubs, of course).
9. Elf on the Shelf Banana Idea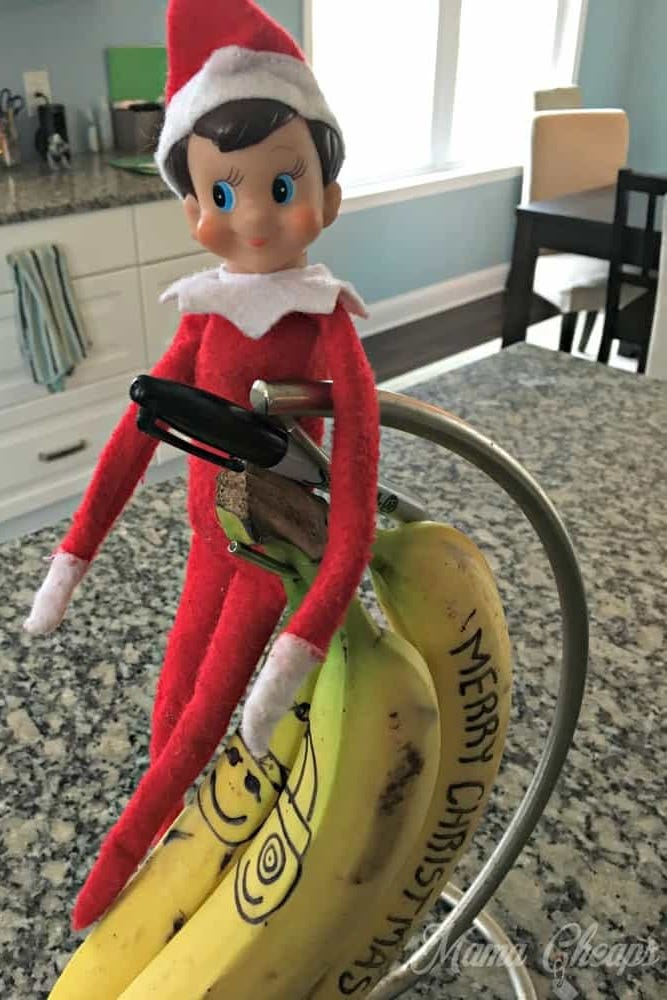 Let your elf have a little fun drawing on the peels of your bananas. Nobody was going to eat them anyway!
10. Elf on the Shelf Balloon Blockade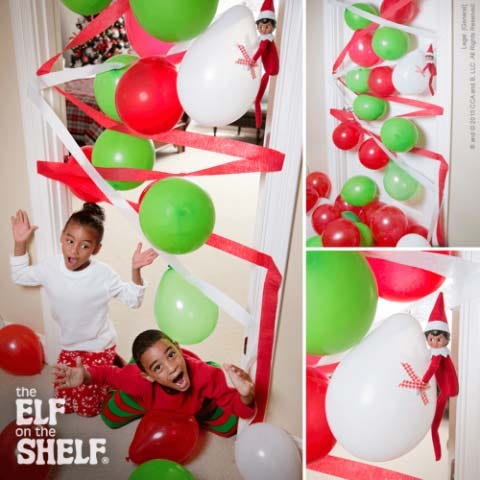 This fun idea only takes balloons, crepe paper, and tape, and your kids will think it's so fun!